The last week of school is a fun time for teachers as their students shower them with gifts showing their appreciation. As I have been the fortunate recipient of many gifts over the years, I thought I would share some of my own feelings about what makes a "good" gift. Firstly, I know for me it really is "the thought that counts". Handwritten notes from the students are very special. This year one wrote a note that  referenced a recent lesson and that made me smile. So parents, don't stress too much about what you will get – but do encourage your kids to write the notes!
Secondly, there are lots of inexpensive things you can buy that will be appreciated. Most parents are buying for a number of teachers and teachers all know that so they aren't expecting anything more than a small item. Here are some ideas:
1. Food
Target has a large range of beautifully packaged items that cost $5 or less. I can't imagine anyone not appreciating these items.
The other option would be to bake your own food. This year I got very yummy chocolate chip cookies (they are long gone), peanut brittle and a variety of other homemade items.
2. Gift Cards
Money is often tight for teachers so a gift card for $5 is a nice way for them to be able to spoil themselves with a treat. Any coffee shop (is a great idea – Starbucks, Dunkin Donuts etc). Ice cream / frozen yoghurt stores are another nice place to get gift cards from. And Amazon and iTunes of course as you can get ebooks and movies and apps for under $5.
3. Seasonal items
Tree ornaments can serve as a nice reminder of the student for years to come. These can be bought or handmade.
If you come from another country then something from that countries traditions is cool. Last year my daughter gave her teachers Christmas Crackers as every South African family would have those at their Christmas dinner tables.
4. Interesting hand made items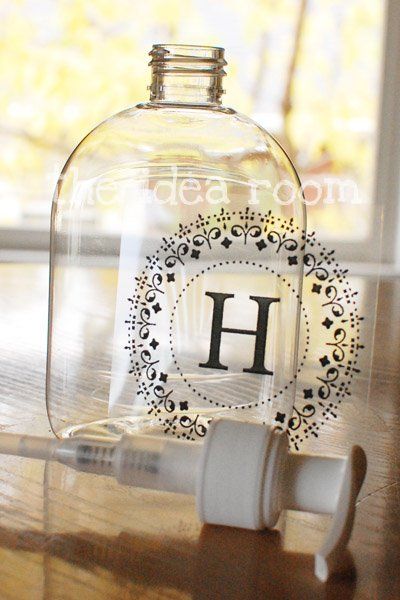 One of the nicest things I received a few years ago was a personalized hand soap in a dispenser. I found this blog post which explains how to make these. The photo is from that post.
Pinterest will have many more ideas.
5. Plants
I must admit that most of the plants I receive die within a month, but I am sure most people do a better job at looking after them. I even managed to kill a mini cactus. But herbs and small plants aren't expensive and are pretty as well as functional.
You can pick them up in grocery stores – but you can also order online at stores like Amazon.
Any more ideas? Please share them in the comments.